Often, we encounter goods and products that are counterfeit and trying to pass as the original ones. These products can be a cheaper alternative, not only are they ineffective, but they can also pose possible risks. A fear among most consumers is that the replication of products in the market is often subtle, making it harder for buyers to identify which products are real and fake, and this is mostly true for cosmetics and beauty products. Fake beauty products have been known to make headlines in social media posts and daily news due to their health risks and unnoticeable differences from their original counterparts. Lately, reports have circulated around social media platforms that a specific melasma treatment—Pynocare—is being counterfeited, so caution is advised and tips on how to identify fake Pynocare are being provided. The FDA Philippines has also released an advisory, warning healthcare professionals and the general public regarding this matter.
Pynocare for melasma
Melasma is a common skin condition that presents itself as dark brown or grayish spots on the skin. It is a form of hyperpigmentation that commonly affects areas of the face such as the forehead, nose, upper lip (known as centrofacial patterns), cheeks, below the eyes (known as malar patterns), jaw area, and chin (known as mandibular patterns). On some occasions, melasma can also appear on other body parts such as on the shoulders, neck, forearms, and upper extremities (extra facial melasma).
Pynocare is a clinically proven oral treatment for melasma and the only FDA-approved oral medicine to reduce the signs of dark spots. It is specifically formulated to deeply penetrate the inner layers of the skin to help minimize melanin levels, thus reducing the appearance of dark spots.
Reiterating, Pynocare is the only known FDA-approved oral treatment for melasma, which can possibly be a reason as to why it is being counterfeited. It is effective, well-known, established, and virtually has no direct competition in the market. Counterfeiters target these types of products since it would be easier for them to make profit. This is why the public is advised to only purchase from licensed drugstores and official retailers to avoid the risk of getting a counterfeit product.
Identifying fake Pynocare
Counterfeit products are all over the market today. From basic consumer goods to medicines and cosmetic products, no brand is safe from having their products counterfeited. Aside from the obvious risk that consumers are exposed to because of these fake products, the companies also lose on sales and potential damage to their brand image. Consumers who unknowingly purchased a counterfeit product may associate the ineffectiveness and negative side effects experienced to the real product, worse, making them distrust the brand overall.
Thankfully, the FDA Philippines along with the brands, companies, and non-profit organizations are actively tackling these issues. Brands are spreading awareness of the existence of counterfeits imitating their products and the FDA releases advisories and enforces the law to penalize the ones behind these fake products.
With the current threat of counterfeit Pynocare, here are some things to know about how to identify fake Pynocare.
No print on blister foil: Authentic Pynocare shows the details and its formulation printed on the blister Fake Pynocare does not have any blister prints.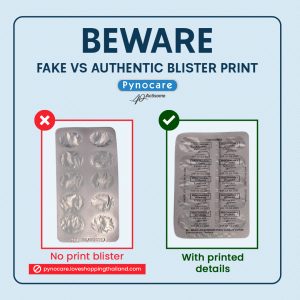 Capsule shape: Fake Pynocare capsules appear to be more pointed and longer than the authentic ones that are rounder and have no points.
Check the box: Identifying fake Pynocare can also be seen on the packaging. On fake Pynocare boxes, it will show that the product is imported and distributed by Royal Drug, , while the authentic brand is imported and distributed by Metro Drug, Inc. It is also wise to check the spelling of the information, as some words (package vs. package) are misspelled. The fonts are also different, as the fake ones look darker.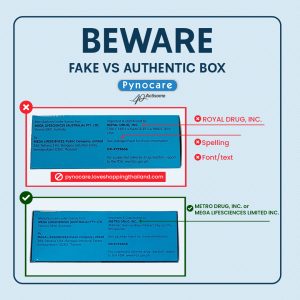 Blister pack: While the authentic Pynocare has wide blister packs and comes with a divider in the middle, the fake Pynocare does not have this, and its blister pack is also significantly
Other signs of counterfeit products
Being meticulous when it comes to buying products on the market can help determine whether they are worth buying, and some signs will show themselves to those who are looking for them. This is relatively helpful for anyone looking to avoid fake beauty products in general, not just knowing how to identify fake Pynocare, specifically. Some signs of fake cosmetics may include the following:
Low prices: Significantly lower selling prices (compared to its original retail price), especially by half or a third can be an indication that it is a fake product. Counterfeit products are cheaper to produce as they may not be made with key formulations or with only alternatives making them more inexpensive but less effective or even cause negative side
Unauthorized distribution: Beauty brands carefully control who can sell their products. This means that brands usually have a list of licensed sellers on their websites. Products that are sold by unauthorized sellers are an indication that they may not be authentic
Differences and errors on the packaging: It is helpful to check the physical product for anything off, such as its smell, its packaging, and at times, its grammar and spelling. Counterfeit products tend to smell differently because of the difference in formulation; there might also be fading or discoloration on the packaging or on the logo, and misspelled words and grammatical errors can be found on the packaging or information In addition, the font style or the text can also be a huge giveaway that a product is fake.
How to avoid fake products
Looking to be safe from all the fake products all over the market requires caution and attention to detail. There is nothing more important than looking out for ourselves, so to help, here are some tips to avoid counterfeit beauty products.
Beware of fake accounts or websites. Unauthorized sellers are using fake accounts and fake websites to reach targeted audiences and consumers. Researching about the online retailer or seller and looking for reviews can help identify if it is a trusted
For Pynocare-related purchases, it is highly recommended to only buy them from drugstores, or if an online purchase is easier, LifePal Pharmacy is the most trusted seller on Shopee and Lazada to get Pynocare from. You can check the list here to know where you could buy authentic Pynocare.
Buy directly from brand stores and authorized sellers. A safer option to buy authentic products is to buy them at their physical stores. If this is not an option in your area, check directly through trusted websites and shopping
When in doubt, don't. A quote that is most applicable to every choice that we make. Every purchase that we make, especially if it's for our health's sake, is crucial. If, in any case, you think that a purchase is not authentic or there is a second doubt, throw it
Look out for FDA advisories. The FDA Philippines regularly posts on their Facebook page the advisories and warnings to the public regarding fake and unauthorized
Report suspected As consumers it is also our duty to report suspected fake products to the proper authorities. You can directly message the brands on their social media platforms or report it to the FDA via their e-report website.
It is always wise to be on the lookout for anything that can pose any threat to our health. Fake and counterfeit products are just as important to avoid as any other danger-inducing risks. If you find yourself debating whether a cosmetic, oral, or non-oral beauty product is off in some way, it is better to take the more cautious route.
References
Food and Drug Administration. FDA Advisory No.2023-0993.
Verma, A. (2021, January 12). Original vs. fake products – iPleaders. iPleaders. https://blog.ipleaders.in/original-vs-fake-products/
Tips on how to spot counterfeit cosmetics. (n.d.).
Fake Cosmetics and their Health Risks. (n.d.). Department of State. https://dos.ny.gov/fake-cosmetics-and-their-health-risks
————————————————————————————————————————————————————————————–
PYNOCARE (Procyanidin + Ascorbic Acid + Betacarotene + d-Alpha-Tocopheryl Acetate)
The first and only oral medicine that is clinically proven to reduce Melasma or dark spots formation in just 8 weeks. Unlike creams, lotions, and gels, it has MSCC or Melasma Skin Clear Complexion Complex formulation that deeply penetrates the inner layers of the skin, to help normalize melanin levels, thus minimizing the appearance of dark spots in a short time.
Mega Lifesciences Limited Inc. or Mega We Care, is actively involved in helping millions of people have access to safe, effective, world-class quality nutritional & herbal supplements, OTC, and ethical products.